Numalliance is the sole brand in the industry able to reach out to Automotive, Aeronautics, Point of Purchase, Furniture, Lawn and Garden or home appliances, as well as Medical or Jewelry, all industries rely on the powerful capabilities of the company.
Standard Feed and Form
Robomac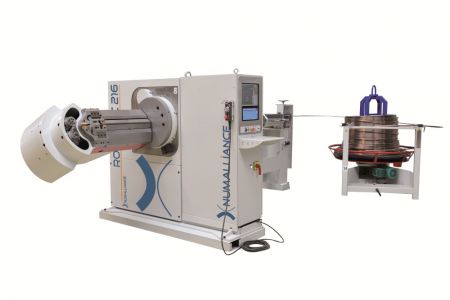 The 5 servo machinery entirely hydraulic free that pioneered the CNC Wire bending industry.
LATOUR : The Dean Corporation
Celebrating 140 years of existence Latour was initially founded as a hand tool manufacturer and evolved to machinery. Later on the company combined its mechanical expertise in developing the Robomac line the workhorse for CNC Wire bending industry and integrated Servo on multi-slide creating the NUMAC, the Servo Camless Multi Slide equipment for high volume, high speed and tight tolerance requirements.
Contact Bill Duenwald at vntur@vtech-1.com for video of this machine
MacSoft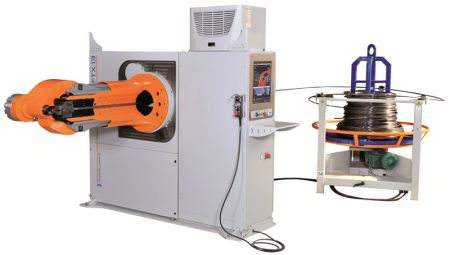 The 7servo machinery entirely hydraulic free that pioneered the CNC Wire bending industry.
MACSOFT: The CNC Pioneer
World of wire bending would probably be different if it was not for Macsoft. Started by Joel Etienne –current CEO of the Group- out of the principle : "There must be another way to bend wire". The start-up created the first 3 servo wire bending machine, at the same time launching what will become the "F Line. Few years later the Macsoft launched the FX whose bending capabilities enables tube bending and features the iconic "double bend". The combination of the movement generates two bends in one movement.
Satime : The One-stop-shop for secondaries
Round, square, oval, coin, pierce, notch, twist…you name it, Satime knows an efficient and effective way of "torturing" material. Satime holds several patents in that field as the scope of application branches in all industries.
Numalliance North America - Advanced Technology Center
Numalliance North America was founded 6 years ago through the buyout of the buy-out of its leading representation on the continent. Located in the vicinity of Chicago, Numalliance North America Advanced Technology Center is a fully staffed Customer center, with sales, service, training, parts, and show room that display the latest in bending and beyond bending.
Contact Bill Duenwald at vntur@vtech-1.com for video of this machine