ROCKFORD MANUFACTURING GROUP
RMG is home of the innovative single offset arbor and patented Clutchless 
RMG straighten and cut machines, the 100 year old Lewis Machine Works 
and the comprehensive catalogue of Fastener Engineers wire and rod equipment. 
        
We produce the most efficient, reliable and cost effective production Inline Wire Drawing machinery available to support the very foundations of manufacturing; the fastener industries, the wire products industries, the construction industries and the steel wire and rod industries.
Although most of our In Line Wire Drawers are used with steel wire and rod, from .218" (5.5mm) through 1.75" (45mm) diameter, we design and produce custom built machinery to process a wide variety of base metal and alloyed wires; stainless steel, aluminum, copper alloys (brass, bronze, beryllium, etc.), titanium, silver, lead (solder), tin, nickel alloys (Inconel, Monel, etc.), nickel, etc.
The RMG and Lewis Machine names are synonymous with wire Straightening and Cutting. Our machines can be found in wire product shops in most of the western world. Known for their robustness, many of the Lewis machines built over the last 100 years are still operating.
Rockford Manufacturing Group Inc. (RMG) manufacturers two lines of straighten and cut machines, RMG and Lewis Machine, to ensure we have the right machine for your application.
RMG STRAIGHTEN AND CUT MACHINE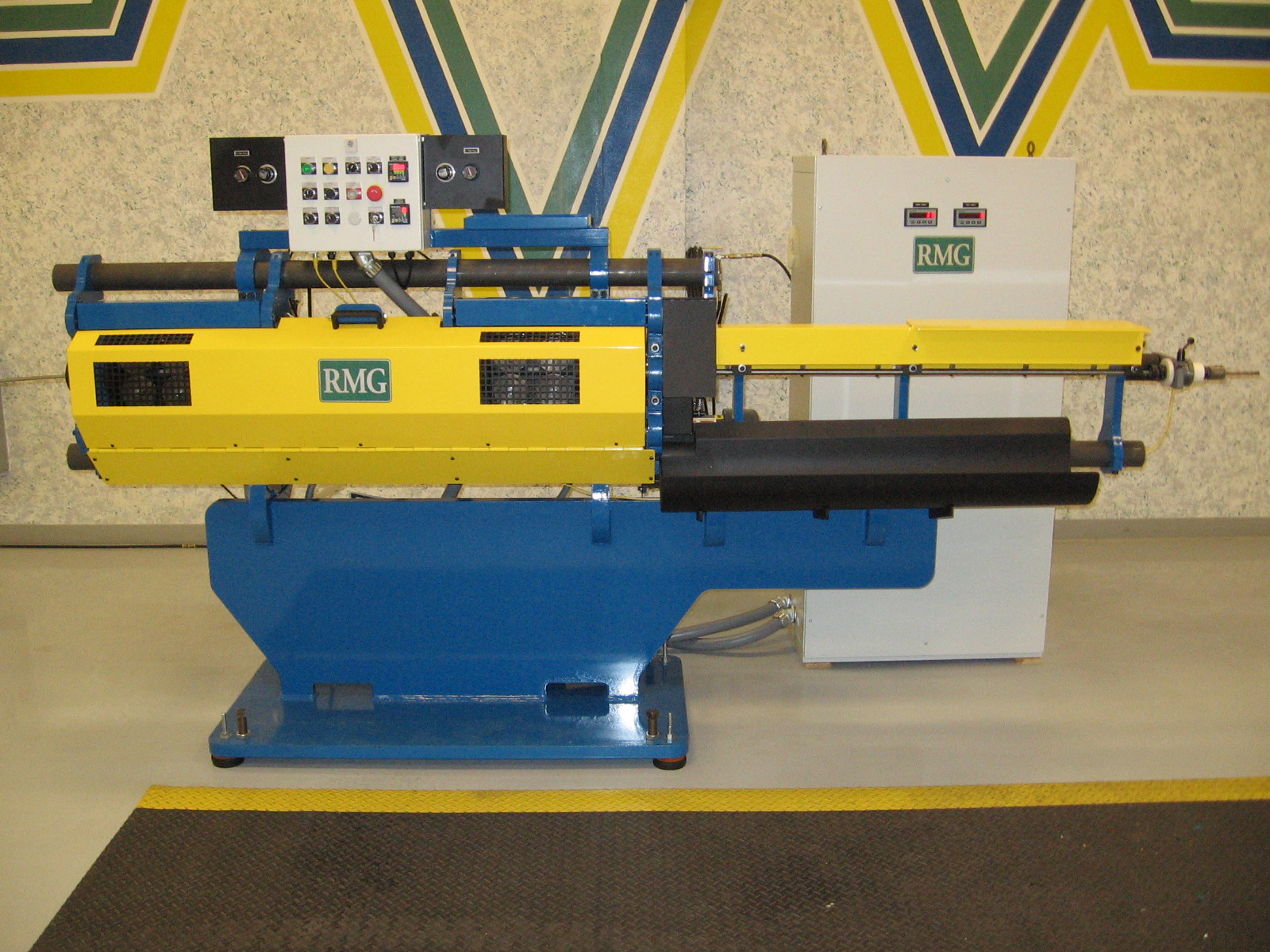 Rockford Manufacturing Group produces five RMG Wire Straightening and Cutting Models with low carbon steel wire capability from 0.050" (1.27mm) diameter to 0.500" (12.7mm) diameter at speeds up to 400 fpm (122 mpm). RMG machines are all built to order so reverse or standard frame machines and custom features and lengths can be accommodated within standard lead times. For information about an RMG Straighten and Cut system specifically for your application, contact our one of our RMG Sales Representatives or Sales Engineers.
LEWIS STRAIGHTEN AND CUT MACHINE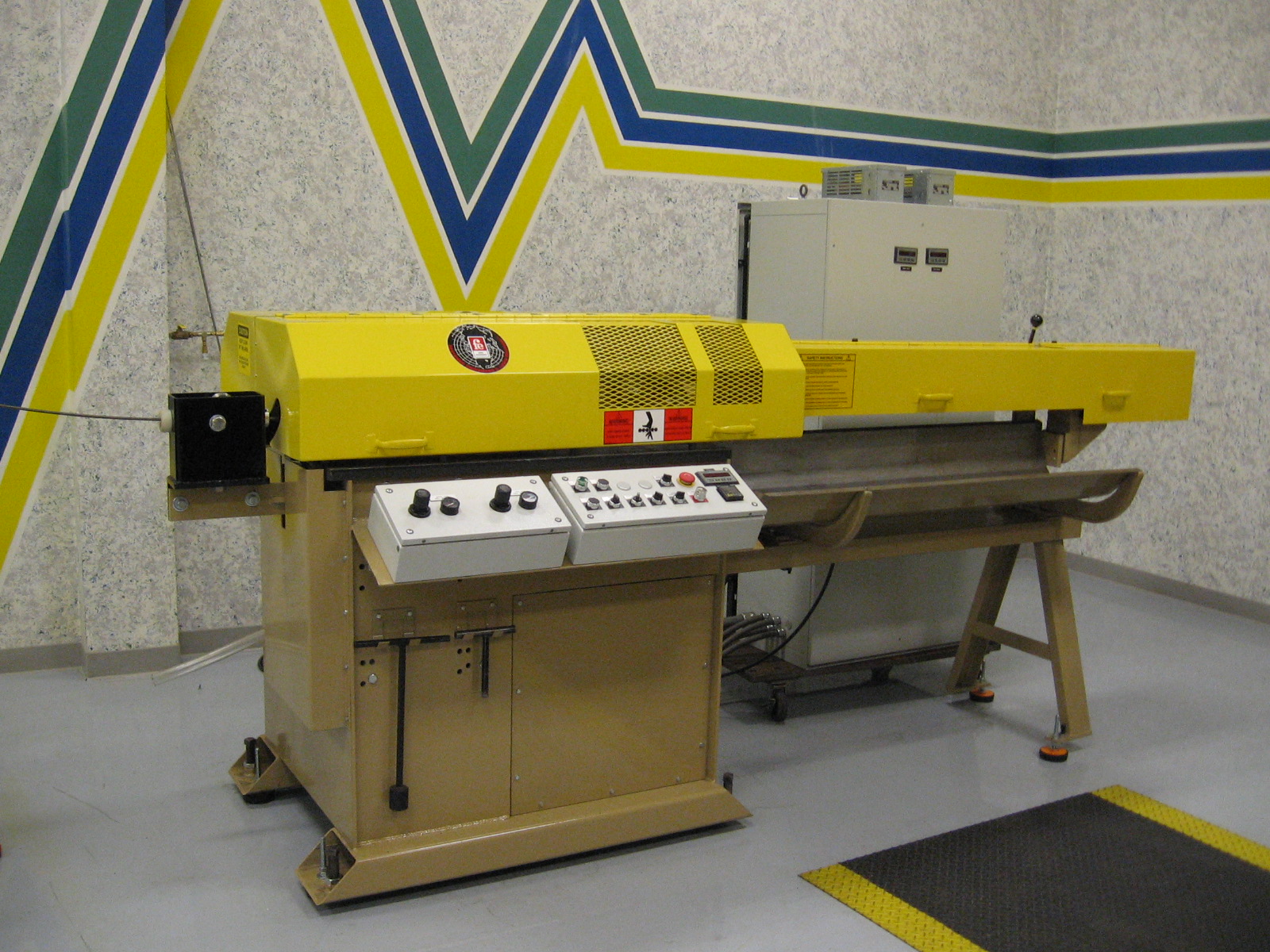 Rockford Manufacturing Group produces eight Lewis Machine designed wire straightening and cutting models with low carbon steel wire capability from 0.030" (0.76mm) diameter to 0.750" (19mm) diameter at speeds up to 400 fpm (122 mpm). Lewis Machines can be designed to accommodate a wide array of material tensile strengths and compositions. Custom application systems have recently been designed for high tensile steels, titanium and stainless steels.
WIRE DRAWING MACHINES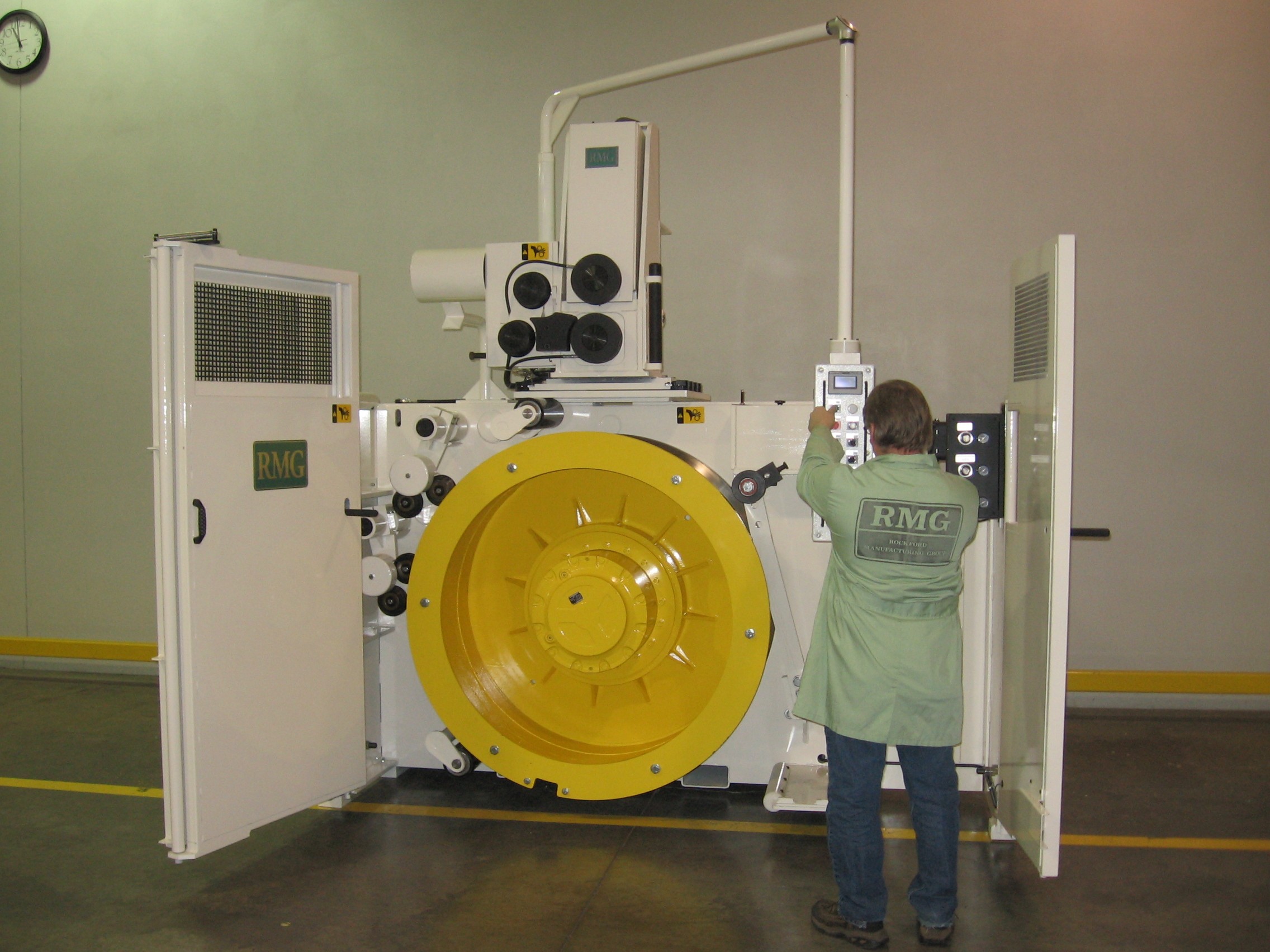 In 2003 Rockford Manufacturing Group acquired the Fastener Engineers. These two companies, pioneers and leaders in In Line Wire Drawing, now combined have over 80 years of experience designing, building and innovating in line drawers and related equipment. We have taken advantage of the joining of our companies to combine the best technologies and experiences of both engineering groups to develop one distinct brand of In-Line Wire Drawers under the RMG name.
PAYOFF EQUIPMENT
For over 40 years RMG and Fastener Engineers have designed and provided a wide variety of custom and standard Payoff Equipment. RMG currently produces four types of wire and rod payoff equipment; Turntables (both powered and passive), Flippers (Z and S), Overhead or Vertical Payoffs and powered horizontal Uncoilers.
Recently we have developed new methods of high-speed payoffs for use in front of our Straighten and Cut equipment. Our Vertical Payoff Stand – 4VPS16, for smaller diameter wire and Variable Frequency Drive – power assisted Turntables. A poor material payoff can greatly reduce the production rate of the Straightening and Cutting machine, which is why RMG continues developing new devices to solve some of these problems.
We have also developed the new "Automatch" Prefeeder Uncoiler for the delivery of large diameter wire and rod to production cold heading machines using speed control technology for consistent continuous feed. This improves blank length and volume control for today's high precision cold heading machines by isolating the full inertia of the coil from the wire required for the stroke of the production machine. This technology is so innovative we have US and International Patents Pending.
Catalog

Company    Website www.rmgfelm.com
Case study: In line drawing/descale/straighten and cut  
Contact us today to see how we can be of service to you.
3047 Brentmoor Dr./St. Charles, Missouri 63303/phone: 636.939.3827 / email: vntur@vtech-1.com